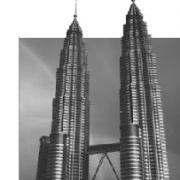 Premium tours of the iconic Petronas Towers in downtown Kuala Lumpur are now available for MYR200 (USD65) per person. The tour includes a visit to the sky bridge, the observation deck, and a lunch at the private Malaysian Petroleum Club restaurant on the 41st floor. For dinner the price is MYR350 (USD113) and includes a fine-dining meal with your choice of Chinese, Japanese, or Western cuisine.
Standard tours to just the sky bridge cost MYR10 (USD3.50) per adult and MYR3 (USD1) per child. The tour begins with a video presentation and the sky bridge visit takes approximately 15 minutes. There is also a MYR40 (USD13) package with a sky bridge tour and a visit to an observation deck on a higher level. After completing the tour there is a small museum with information about the Petronas Twin Towers' design and how they were built.
Tickets for standard tours of the Petronas Twin Towers are issued from 9am and available on a first-come-first-serve basis. Advance tickets are not available; you must purchase your ticket on the day of the visit. Visiting hours are from 9am to 7pm every day but Monday.
For more information about visiting the Petronas Twin towers visit their official website at http://www.petronastwintowers.com.my. If you would like to book a premium tour contact skybridge@petronas.com.my at least 2 weeks in advance.