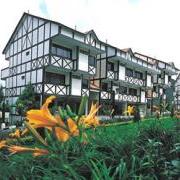 Until December 31, 2011, guests staying at the Equatorial Hotel Cameron Highlands can earn MYR98 (USD31) daily in credit to spend at the hotel's F&B outlets. Guests who book an apartment earn additional credit. Any unused credit will be refunded in cash at 50% at the time of check-out. Rates for a Superior Room are MYR218 (USD70) on a weekday and MYR288 (USD95) on a weekend.
Weekday rates for other room types are MYR258 (USD86) for a Deluxe Room, MYR358 (USD115) for a Senator Suite, and MYR298 (USD96) and upwards for an apartment. A weekend surcharge of MYR70 (USD23) applies on Friday and Saturday nights. A peak surcharge of MYR140 (USD46) applies during public holidays. All room rates are subject to 10% service charge and 6% local taxes.
The Equatorial Cameron Highlands is a four-star hotel located in the hills north of Kuala Lumpur. The hotel offers 269 well-appointed guestrooms plus 141 apartment-style suites. Facilities include an indoor pool, children's playground, tour desk, and a variety of dining options. The Cameron Highlands is one of the most scenic areas in peninsular Malaysia and is renowned for its temperate climate and lush gardens.
For more information about the "Giveaway Package" or to make an online booking, visit the Equatorial Cameron Highlands website at http://www.equatorial.com/cam/. Bookings can also be made by emailing info@cam.equatorial.com or calling (60) 5 496 1777.