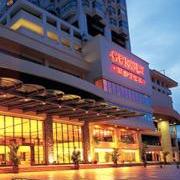 If you're traveling to Penang with family or friends, consider the "Family Holiday Package" at the Gurney Resort Hotel. Guests who book 3 nights in a spacious 2-Bedroom Suite will only be charged for 2 nights and also receive complimentary daily breakfast and discounts at the hotel's spa and restaurants. For the first 2 nights, the room rate is MYR450 (USD145).
The "Family Holiday Package" is available until January 31, 2011. The first 2 nights will be charged at a rate of MYR450 (USD145) plus 10% service charge and 5% government taxes and the 3rd night will be completely free. This rate is valid for quad occupancy (4 adults, or 2 adults and 2 children) and includes daily buffet breakfast for all occupants. Guests will also receive a 15% discount at the hotel spa, Coffee House Café, and Ichiban Japanese Restaurant.
The Gurney is a modern 36-storey hotel in Georgetown, Penang, with a beautiful seaside location. It is an all-suites property with 259 rooms configured as studio or 2-bedroom suites. The rooms have all the comforts of home including a sofa set, TV, dining table, complimentary Internet access, work desk, and bathroom with Jacuzzi tub. Hotel facilities include an outdoor pool, fitness center, kids' play area, restaurants, and shopping.
For more information about the Gurney Resort Hotel or online bookings, visit their official website at http://www.gurney-hotel.com.my/. The hotel can also be contacted at gurneyhotel@myjaring.net or (60) 4 370 7000.