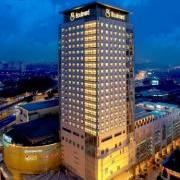 Enjoy great rates from MYR253 (USD84) and complimentary shopping vouchers when you stay at the Boulevard Hotel in Kuala Lumpur until March 31, 2011. During the promotional period, each guest will receive a voucher worth MYR20 (USD6.50) to spend at the Metrojaya Department Store in the Mid Valley Megamall which is conveniently linked to the hotel.
This promotion is valid for all room types. Rates start from MYR253 (USD84) for a Superior Room, MYR273 (USD91) for a Deluxe Room, MYR318 (USD106) for an Executive Room with premium lounge access, and MYR399 (USD130) for a Suite. Quoted rates are based on double occupancy and include all taxes and service charges. Buffet breakfast can be added at the time of booking at a daily rate of MYR20 (USD6.50) per person.
Located in the Mid Valley district of Kuala Lumpur, the Boulevard Hotel is a shopper's dream with easy access to the Mid Valley Megamall and the up-market Gardens Mall. It is a 4-star hotel and offers 390 rooms with all the modern amenities including satellite TV, mini-fridge, Internet access (chargeable), and a bathroom with rain shower. Rooms have a contemporary décor and are furnished with your choice of 1 king or 2 single beds. The hotel's facilities include an outdoor swimming pool, fitness center, tour bookings, spa, and a 24-hour café.
For more information about the Boulevard Hotel Kuala Lumpur, visit their website at http://www.blvhotel.com/. Reservations can be made online or by calling (60) 3 2295 8111.