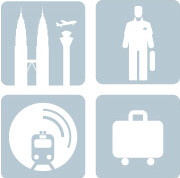 Book your tickets for the KLIA Express Train to the Kuala Lumpur airport in advance and receive discounts up to 25%. Until December 31, 2010, one-way train fares are as low as MYR25 (USD8) per adult or MYR75 (USD24) for a family of 4.
The "Family Package" costs MYR75 (USD24) for one-way train tickets for 2 adults and 2 children. The "Group Saver" package costs MYR25 (USD8) per person for a one-way ticket and is valid for groups of 3 or more adults booking together. Regular one-way fares for the KLIA Express Train are MYR35 (USD11) for adults and MYR15 (USD5) for children aged 2 – 12. There is no discount for return fares.
The KLIA Express Train is the quickest way to travel between the Kuala Lumpur International Airport and KL Sentral station. This high-speed train takes only 28 minutes to reach the city center, while taxis to the city take 45 – 90 minutes depending on traffic conditions. The train is very comfortable and free porter service is available to help travelers with their luggage. The KLIA Express train departs every 15 minutes during peak hours and every 20 minutes off-peak hours.
This promotion must be booked by December 31, 2010, and is valid for travel between November 17, 2010, and January 2, 2011. Book online at http://rail.malaysiaairlines.com.