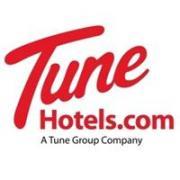 For a limited time, Tune Hotels across Malaysia are offering rooms for just MYR1 (USD0.33). This promotional price is for the room-only and additional charges apply for internet access and breakfast. Participating hotels include Tune locations in Kuala Lumpur, Penang, Kuching, Kota Kinabalu, and Johor. Bookings must be made September 20 – 30, 2011, for stays from June 1 – August 31, 2012.
Tune is a chain of budget hotels that offer modern comforts at rock-bottom prices. They currently have 10 hotels across Malaysia including Downtown Kuala Lumpur, Kuala Lumpur – LCCT Airport, Downtown Penang, Waterfront Kuching, Kota Bharu City Centre, Danga Bay Johor, and 1Borneo Kota Kinabalu.
With their smart lay-out, guestrooms at Tune Hotels fit comfortable bedding, TV, a work desk, and ensuite bathroom into a small space. Tune Hotels have a policy of charging only for what you need and air-conditioning, towel, toiletries, and wireless internet access are available for a small fee.
Visit http://www.tunehotels.com/ for more information or to make an online booking. Changes or cancellations to bookings are possibly if you purchase Tune Hotels Insurance for as little as MYR5 (USD1.70).