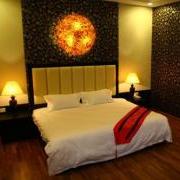 Visit the fascinating city of Melaka (Malacca) and stay at its newest luxury hotel for just MYR198 (USD63) per night. The Jonker Boutique Hotel offers 16 designer rooms in the heart of Melaka's cultural district. Opening rates include breakfast for 2 people, complimentary wireless Internet, 10% service charge, and taxes.
The Jonker Boutique Hotel offers 4 different room classes based on size and beds. Opening rates are MYR198 (USD63) for a Superior Room, MYR228 (USD73) for a Deluxe Room, MYR258 (USD83) for a Premier Deluxe Room, and MYR288 (USD93) for a Grand Deluxe Room. There is a weekend surcharge of MYR40 (USD13) for Friday and Saturday night.
The Jonker Boutique Hotel is the only luxury hotel located directly on Jonker Road, an area filled with antique stores, cafés, art galleries, museums, and restaurants. Each of the hotel's 16 rooms has its own personality and the lay-out varies. Photos of each room can be viewed on the website and a request for a specific room can be made when booking. All rooms are stylish with teak flooring and local artwork and have modern amenities like large LCD TVs with satellite channels, mini-bar, and safety box.
For more information about the Jonker Boutique Hotel and their unique rooms, visit their website at http://www.jonkerboutiquehotel.com. Bookings can be made by completing the online reservation form or calling (60) 6 282 5151. Reservations must be confirmed with a credit card.