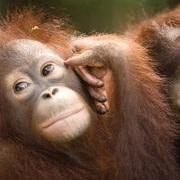 Experience the exotic wildlife of Borneo with the "Connect to Nature" package from the Shangri-La Rasa Ria Resort in Kota Kinabalu. The package includes luxurious accommodations, buffet breakfast, bird-watching, guided nature walks, Orang Utan experience, and participation in the 'Foster an Animal' program. This package costs MYR875 (USD290) per night and is available until December 21, 2011.
The "Connect to Nature" package requires a minimum stay of two nights. Room rates are based on double occupancy and are subject to 10% service charge and 6% local taxes. The package includes bird watching at the Dalit Bay Golf & Country Club, a guided night-time walk to look for nocturnal animals, and an 'In Search of Orang Utan' activity followed by a guided walk to the mini-tree top canopy For the 'Foster an Animal' program participants will select one animal and receive an official certificate, a picture of the fostered animal, and have their name recorded on the hotel's website.
The Shangri-La Rasa Ria is the premier luxury resort in Kota Kinabalu, East Malaysia. It is located on 400 acres of lush grounds near Pantai Dalit Beach and has its own nature reserve, Orang Utan education centre, and an ecologically friendly golf course. The resort's 420 rooms are the height of luxury with natural wooden furnishings, complimentary internet access, and private balconies with rainforest or ocean view.
isit the official Shangri-La Rasa Ria Resort website at http://www.shangri-la.com/en/property/kotakinabalu/rasariaresort for more information or to make an online booking. The hotel can be contacted by calling (60) 88 792 888 or emailing rrr@shangri-la.com.