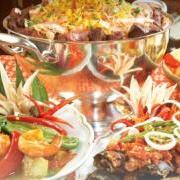 Enjoy a buffet of authentic Malaysian cuisine and a free cultural performance at the Seri Melayu Restaurant in Kuala Lumpur. The dinner buffet is available from 6:30 – 11:00pm and costs MYR72 (USD24) for adults and MYR42 (USD14) for children age 3 to 11. The traditional cultural show of music and dancing takes place from 8:30 – 9:15pm. This promotion is available every night except Sunday.
Guests will enjoy an elaborate buffet of Malaysian cuisine like satay (grilled meat on skewers), laksa (spicy coconut noodle soup), meat curries, fried rice, and fresh seafood. A lunch buffet is also available from 12:00 – 3:00pm on weekdays. The price for lunch is MYR46 (USD15) for adults and MYR23 (USD7.50) for children, but there is no accompanying cultural show. The quoted prices include service charge and taxes.
Seri Melayu is an award-winning chain of restaurants known for serving traditional Malaysian cuisine. The buffet and cultural performance take place at the Seri Melayu Restaurant on Conlay Road in central Kuala Lumpur.
For more information about Seri Melayu Restaurant visit their website at http://www.serimelayu.com/. Reservations are recommended and can be made by calling (60) 3 2145 1833 or completing the online reservation form.