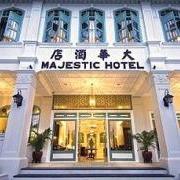 The Majestic, the most luxurious heritage hotel in Malacca, is offering special rates and complimentary perks until June 30, 2011. The "Heritage Discovery" package includes one night in a Deluxe Room and your choice of choice of breakfast, lunch and dinner or breakfast and a 50-minute spa treatment. The package price is USD235 plus 10% service charge and 6% local taxes.
The Majestic is a heritage hotel located in a converted 1920s Peranakan mansion. It is located in central Malacca and makes an excellent base for exploring the city's rich heritage of museums, churches, markets, and picturesque waking streets.
Guests will enjoy one night in a spacious Deluxe Room with floor-to-ceiling windows, timbre floors, and elegant teak furnishings. Rooms are furnished with one king or two twin-sized beds and have luxurious bathrooms with claw foot tub. The Majestic offers a full range of facilities including a fitness centre, swimming pool, spa, and library.
For more information about the Majestic Malacca or to make an online booking, visit their official website at http://www.majesticmalacca.com/. Reservations can be made by calling (60) 3 2783 1000 or emailing travelcentre@ytlhotels.com.my.