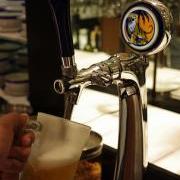 The Social Bar and Restaurant in Kuala Lumpur has a generous happy hour promotion. Every day from 12:00pm until 9:00pm they offer discounted drink prices like a Tiger beer for MYR19 (USD6.25) or a glass of wine for MYR17 (USD5.75). During happy hour selected cocktails are buy-one-get-one-free. This is an on-going promotion and available until further notice.
Happy hour prices are offered for Tiger, Heineken, Guinness, Kilkenny, and Strongbow beer in sizes ranging from a glass for MYR12 (USD4) to a tower for MYR98 (USD32). Bottles of wine start from MYR80 (USD26). The buy-one-get-one-free cocktail promotion applies to sangria, cosmopolitans, long island iced tea, lychee martinis, mojitos, and tequila sunrises. Drink prices include service charge and local taxes.
The Social is located at 22 Jalan Changkat Bukit Bintang in downtown Kuala Lumpur, a street known for its international bars and restaurants. In addition to their extensive drink menu, The Social is a full-service restaurant and serves pastas, salads, bar snacks, Malaysian food, and more.
For more information about The Social visit their website at http://www.thesocial.com.my/. Opening hours are 12:00pm – 2:00am weekdays and 12:00pm – 3:00am on weekends. The restaurant can be contacted by calling (60) 3 2142 8260.