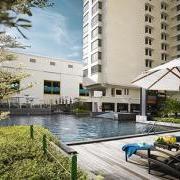 Enjoy affordable rates at G Hotel with their room promotion. Room-only rates start from MYR340 (USD107) per night for a Standard Room. For the Standard, Superior and Deluxe room categories, top up MYR50 (USD15) to add buffet breakfast.
The hotel has nine other room types spread out on their Executive Floors including suites and serviced apartments. Guests staying in these room types have breakfast included in their room rate as well as access to the Executive Lounge.
All room categories at the G Hotel have complimentary wireless Internet access and mini-bar items. Rates apply until 31 December 2010.
The hotel enjoys a prime location along Gurney Drive, which is close to the sea and is within walking distance of shopping malls and eateries famous for Penang's hawker food. The hotel's award-winning design has been celebrated for its blend of contemporary and stylish decor.
Visit www.ghotel.com.my to make reservations. For inquiries, email g4u@ghotel.com.my or call (60) 4238 0000.