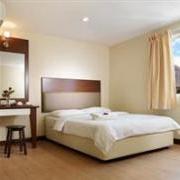 For a comfortable stay in Melaka at a low price, the Fenix Inn can't be beat. Room-only rates start from MYR77(USD25) for a Standard Room, MYR94 (USD30) for a Superior Room, and MYR111 (USD36) for a Family Room. Internet access is complimentary. A 10% service charge and 6% local taxes are additional. These are best available rates and accurate through December 31, 2012.
The quoted prices are the lowest rates available and will be higher during peak times such as weekends and holidays. Rates are based on double occupancy and children age 12 and older will be charged at adult rates. Cancellations must be made at least 72 hours before arrival to avoid a penalty charge equal to one night's stay.
The Fenix is a first-class budget hotel located in the historic city of Melaka, Malaysia. The 68 guestrooms are available in a variety of lay-outs to suit everyone from families to solo travelers and offer modern amenities like cable TV, complementary internet access, telephone, and coffee/tea making facilities. Fenix Inn is located in the city centre and Melaka's top attractions, shopping, and local dining are just a short walk away.
Visit http://www.fenixinn.com for more information or to make an online booking. Fenix Inn can be contacted by calling (60) 6 281 5511 or emailing info@fenixinn.com.