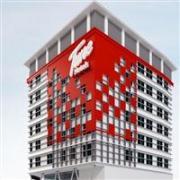 The Tune Hotel Ipoh officially opens on March 30, 2012, and promotional rates start from just MYR39 (USD13) per night for a Standard Room. A 10% service charge and 6% local taxes are additional. At Tune Hotels you only pay for what you use, and separate charges apply for air-conditioning, satellite TV, WiFi, and breakfast. Opening rates are available on select dates now through July 31, 2012.
Room rates vary by date and will be higher during peak times such as holidays. Rates are based on single or double occupancy. Cancellations must be made at least 72 hours before arrival to avoid penalty charges.
Tune Hotel Ipoh is located in the heart of Ipoh, Malaysia. It offers 121 standard guestrooms furnished with one double or two single beds and an ensuite bathroom. Tune Hotels promise a "5-star sleeping experience at a 1-star price" and extra fees apply for satellite TV, air-conditioning, WiFi, and breakfast.
Visit the Tune Hotel Ipoh website for more information or to make an online booking.