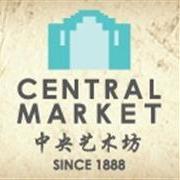 A historic site and shopping haven in one, the Central Market is a must-see during any trip to Kuala Lumpur. Additionally, the market now offers free cultural shows and a shuttle bus to downtown. The Central Market is a one-stop shopping destination for all things Malaysian including food, art, souvenirs, traditional clothing, and handicrafts. It is open daily from 10am – 9:30pm.
The Central Market stage hosts a cultural dance show every Friday at 8pm, a martial arts demonstration every Saturday at 8pm, and performances by buskers and musicians every Sunday afternoon starting at 3pm. Throughout January and into February there will also be special performances for Chinese New Year like acrobatic lion dances.
A complimentary shuttle bus service runs between the Central Market and downtown Kuala Lumpur every day from 10am – 10pm. There are 3 pick-up points downtown – the taxi stand opposite Berjaya Times Square Mall, the bus stop on Jalan Sultan Ismail near HSBC, and the Radius International Hotel. The shuttle bus runs every 90 minutes. The Central Market is also easily accessible by LRT and is opposite the Pasar Seni train station.
For more information about the Central Market and a list of upcoming events, visit their official website at http://www.centralmarket.com.my. A schedule of the shuttle bus times can be obtained at the market's Information Counter or by calling the Tourism Hotline at 1300 22 8688.