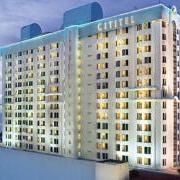 The Cititel Penang is offering discounts up to 15% off their already competitive rates until March 31, 2011. Bookings of 2 nights will receive a 10% discount while bookings of 3 nights or more will receive a 15% discount. Promotional rates start from just MYR138.50 (USD45) for a Standard Room inclusive of service charge and taxes.
This promotional discount is applicable to all room types. Nightly rates for other room types start from MYR160 (USD53) for a Superior Room, MYR172 (USD57) for a Deluxe Room, MYR230 (USD76.50) for a Pinnacle Room with lounge access, and MYR306 (USD102) for a Studio Suite. All rates are inclusive of 10% service charge and 6% local taxes. Breakfast can be added at the time of booking for a special rate of just MYR17 (USD6) per person.
The Cititel is a 4-star hotel located in the heart of Georgetown, Penang, within walking distance of the city's cultural and historical attractions. The hotel's 451 rooms and suites are bright and modern with panoramic views of the channel and Penang Bridge. All guestrooms feature individual climate controls, satellite TV channels, mini-fridge, Internet access, and coffee/tea making facilities. Hotel facilities include a tour desk, health center, outdoor pool, lounge, and restaurants.
For more information about the Cititel Penang visit their website at http://www.cititelpenang.com/. Reservations can be made online, by emailing info@cititelpenang.com, or calling (60) 4 370 1188.