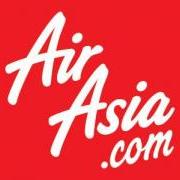 AirAsia's "Big Sale" is back with one-way fares from just MYR5 (USD1.75) plus taxes/fees that range from MYR6 -51 (USD2 – 16.50) each way. All flights from Malaysia are on sale and destinations include China, Taiwan, Vietnam, Thailand, Philippines, Brunei, India, Sri Lanka, and more! Fares must be booked between February 22 and 27 and are valid for travel from September 13, 2011, until February 29, 2012.
Both international and domestic fares are on sale. Visit the AirAsia website for a full list of sales fares. Sample domestic fares inclusive of all taxes/fees are Kuala Lumpur to Penang for MYR11 (USD3.50), Kuching to Kuala Lumpur for MYR19 (USD6), and Johor Bahru to Kota Kinabalu for MYR34 (USD11). Sample international fares inclusive of all taxes/fees are Kuala Lumpur to Chennai for MYR100 (USD33), Kuala Lumpur to Jakarta for MYR50 (USD16), Langkawi to Singapore for MYR76 (USD25), and Penang to Bangkok for MYR96 (USD32).
AirAsia is offering 1,000,000 seats at these promotional prices and they are available until sold out. Quoted fares are for the flight with carry-on baggage only. Extra fees apply for checked luggage, advance seat selection, on-board food and beverages, and electronic payment.
"Big Sale" fares are only available for online bookings through the official AirAsia website. Sales fares are non-refundable and changes to travel dates are subject to fees.