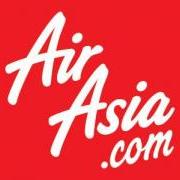 Looking for the cheapest flight from the UK to Malaysia? AirAsia is offering round-trip economy fares from London to Kuala Lumpur for just GBP566 (USD880) inclusive of taxes and surcharges. Additional fees apply for checked luggage, on-board meals, entertainment, and advance seat selection. The quoted price is available for travel on selected dates now through December 20, 2011.
The quoted price is the lowest regular fare available during the selected period and is available until sold out. Fares may be higher during peak travel times. Checked luggage costs GBP12 (USD19) for 15kg, GBP16 (USD25) for 20kg, and GBP22 (USD35) for 25kg per passenger per flight. In-flight meals cost GBP6-12 (USD9.50-19) and special meals are available for vegetarians and children. Advance seat selection costs GBP9 (USD14) for a Standard Seat or GBP28 (USD44) for a Hot Seat with extra leg room.
AirAsia is a budget airline based out of Kuala Lumpur, Malaysia. It was recently voted "the world's best low cost airline" and flies to more than 70 destinations around the world.
Visit http://www.airasia.com/ for more information or to make an online booking. Once a booking has been made, fees apply for any changes or refunds.